Garage Tour & Tech
Session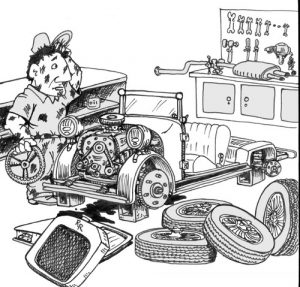 Sunday, August 14. Loveland Cracker Barrel and Drage's Garage
Over twenty RMC members and one guest/soon to be a new member gathered for breakfast at the Cracker Barrel in Loveland on Aug 14. Afterwards everyone drove to John Drage's hobby shop to look and listen to a very badly knocking Corvair engine. After listening and attempts at isolating the noise the consensus was to open the top. The heavy deep noise was located at the bell-housing end of the crank.
The presumption that a rod bearing was bad. But crank was able to move front to rear. Very bad thrust bearing? Broken crank? Tearing the engine down may be in the future.
Thanks all for attending and the group of Corvairs lined up in the parking lots was impressive.