Collector Car Council of Colorado
Car Show at Rocky Mountain Metropolitan Airport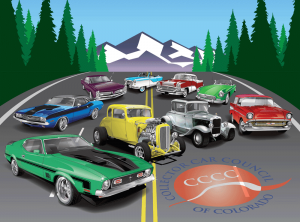 The weather was bordering on hot and the Denver area was experiencing one of the worst pollution days in the world.
We couldn't see the mountains due to all the forest fire smoke blowing in. In spite of the conditions, there was a nice turnout.
The event included a large variety of cars, some static model airplanes and live flyovers including a few stunt performances.
The Corvairs in attendance were Rick's 63 white Corvair Spyder convertible, Ken's yellow Monza convertible, Dusty's mist blue '65 Monza sedan, Marcus' blue green '64 Monza convertible, Jim's (rare) blue and white 8-door Greenbriar van and Mike & Karen's red and white '65 Corsa Convertible.
Click on any image to enlarge and use the "<<" and ">>" arrows to navigate through them.